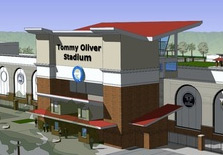 Overview
For more than 60 years, Tommy Oliver Stadium has hosted football games, soccer matches and track meet for athletes in Bay County and from all over north Florida. Now, the stadium is going to get what Bay District School officials call a much-needed facelift, which will involve tearing the stadium down and rebuilding it.
The $6.6 million project will start later this week, but Monday, a ceremonial sledgehammering was held to mark the start of the project. "Tommy Oliver Stadium is not just a stadium. It's a community place and so many different functions go on here, so were excited that the community is going to get something new," said Bay District Schools Superintendent Bill Husfelt. The stadium is named after Tommy Oliver, a Bay High graduate who went to play football for a year at the University of Florida before eventually playing professional football for two years for the Washington Redskins.
Oliver returned as a coach and teacher to Bay High School in 1938, before leaving for an opportunity to open the U.S.O. in Panama City. Oliver was eventually drafted and was killed in action on June 5, 1945 in Okinawa. He is buried at Arlington National Cemetery. Oliver's niece, Ann Digsby, was at Monday's ceremonial demolition.
"The first stadium, you know, was on Harrison Avenue and he went to the school board and said they needed a football field. They said 'Oh, we can't do that.' He said I've got some football players who will help you build one," said Digsby. When it opened in 1954, it was the largest high school stadium in Florida. In it's 60+ year history, it's seen thousands of athletes play on its field and run around its track.
Among the most memorable games in its history was the showdown between Rutherford High School and Bay High School in the 1993 4A state semifinals in football. Rutherford had won the district title in the last game of the regular season 20-9, but Bay High would prevail 38-0 in the rematch which saw a crowd estimated at 11,000 jam in to witness history. Portable bleachers had to be brought in to hold the crowd.
Just four years earlier, in 1989, Pine Forest High School out of Pensacola came in to Tommy Oliver to play Mosley. At the time, Pine Forest was the #1 football team in the country according to USA Today and was riding a 31-game winning streak. Mosley would win the game 10-0 in a defensive battle in front of close to 10,000 fans.

View Stadium Construction Plans
.

View Stadium Elevation Layout
.