Overview
The Coolers and Freezers are made with premium components and custom made doors. Cam-lock design for easy installation and customer convenience. Manufactured with and without insulated floors. Each refrigeration system is custom designed for your specific requirements. Interior and exterior finishes available in; galvanized steel white or embossed, stainless steel or aluminum.
Cam-lock Panels for Walk-ins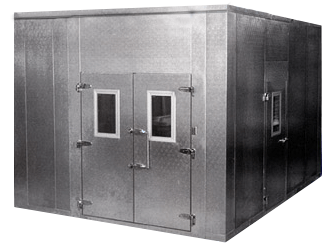 These tongue and groove panels are generally used for smaller enclosures but also for some larger projects. The panels are connected with cam-lock fasteners, this provides for easy and quick assembly or disassembly of the enclosure. Panels are available in thickness from 2" to 8" with the standard being 4" and lengths up to 29' 10". The R-factor (thermal resistance) is 32 for a standard 4" thick panel.
Insulated Floor Panels
Coolers (temperatures down to 34 degrees) do not need insulated floors but all freezers do need sub-floor insulation or for smaller projects insulated panel floors.
Panel floors are available in 16 and 14 gauge galvanized steel, aluminum or stainless steel finish. Floor drains are foamed in-place and recessed into the panels. Floors can be reinforced for heavy load capacity such as pallet jacks with ply-wood underlay and diamond plate overlay. Also available Super Reinforced Floors, reinforced internally with PVC tubing to withstand loads of up to 4,800 pounds per square foot.
Our Walk-in Suppliers